Introducing the 2023 Kia Sportage X-Pro Off-Road Trim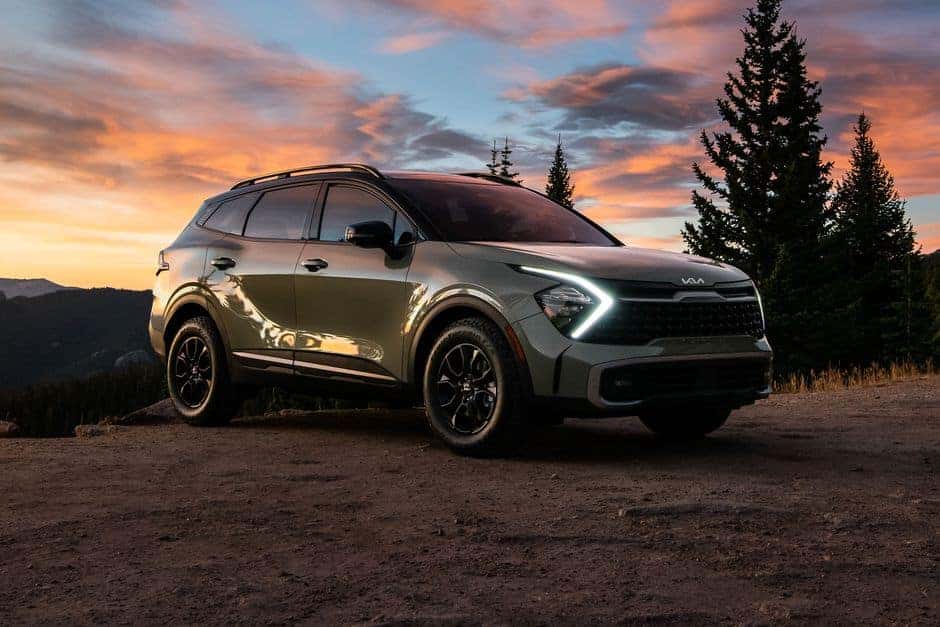 The recently revealed 2023 Kia Sportage X-Pro is going on sale in early 2022 and has Kia fans super excited. This new Sportage is larger than the previous model and according to the automaker, it will eventually offer a hybrid version. Its wheelbase is longer by 3.4-inches and its overall length increased by 7.1 inches. For the active family that enjoys the great outdoors, this is an ideal family vehicle because its cargo space and rear-seat legroom have increased as well, making for a more comfortable and practical ride. Kia also went all out with its exterior by taking some styling risks in the design department. The model now features large boomerang-shaped daytime running lights and a two-tier front grille design.      
Engine and Performance
Its base engine is a 2.5 L 4-cylinder that makes 187hp via an eight-speed automatic transmission. Front-wheel drive is standard on all models, but an all-wheel-drive configuration is available. As mentioned, Kia has plans to introduce a Sportage "Hybrid", but the company has yet to release any details on the hybrid powertrain.
The X-Line Appearance Package
There are two available off-road-oriented models on the 2023 Kia Sportage that include the X-Line and X-Line Pro trims that are designed for driving on multiple types of terrain. Consumers can opt for the X-Line, an appearance package that offers a unique front and rear bumper, a large roof rack, and black-accented trims. The X-Pro features sporty 17-inch BF Goodrich all-terrain tires, a heated windshield, and LED fog lights. Although Kia has not released official pricing figures for the new Sportage, online estimates suggest the 2023 model with the X-Line Package will go for a starting price of $35,000, and the X-Pro for about $38,000 (plus destination fees). More affordable trims include the LX, EX, and SX.   
Technology and Driver Safety
The base LX trim has an 8.0-inch touchscreen, but opting for the higher trims buyers are rewarded with a 12.3-inch digital gauge cluster and a central touchscreen display of the same size. Kia's driver safety suite includes lane-keep assist, forward-collision warning, blind-spot warning, and adaptive cruise control. Families can feel confident and safe on the road knowing that Kia's safety features add an extra level of protection to the vehicle. 
Buying a 2023 Kia Sportage
Don't wait any longer, come visit us today and place an order for a 2023 Kia Sportage SUV at Southern Kia Lynnhaven, your local Kia dealership with the best prices! Vehicles are expected to sell out fast, especially the X-Line and X-Line Pro trim. To ensure timely delivery and pickup of your new Sportage SUV, make your reservation today. With us, you can be confident that you are getting the best deal for a brand new Sportage. Also, feel free to explore our onsite inventory of new and certified pre-owned Kia vehicles for unbeatable discounts and amazingly low prices. 
Image Source: Kia