Introducing the Kia Soul EV Boardmasters Edition Concept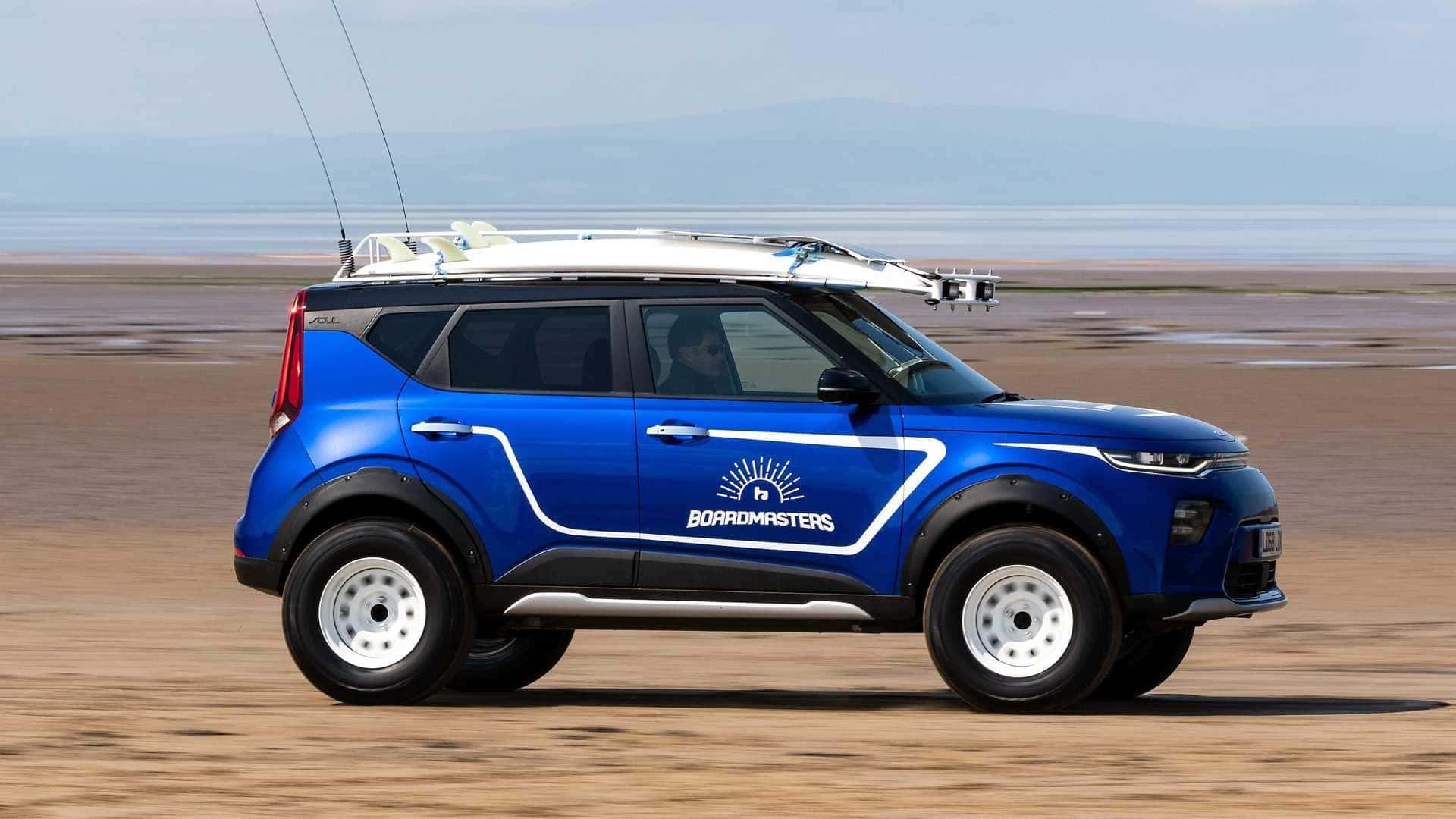 Kia of U.K manages to transform a pre-production Kia Soul EV prototype into an off-road, surfboard-hauling machine for the 2021 Boardmasters Surfing and Music Festival in Cornwall, England. Usually, after a concept vehicle or prototype's purpose is over, they are often destroyed, put in a company museum, or stored elsewhere. But instead of getting crushed, the Kia Soul EV prototype gets another shot at life. It receives noteworthy modifications such as a 3-inch lift, a custom suspension, wider tracks, and 16-inch white steel wheels wrapped in Maxxis Bighorn tires. On top of the Kia Soul EV Boardmasters Edition is a roof rack that can carry two large surfboards, and on the inside, the rear seat is removed to make room for a white-stained wooden spruce deck extra space.    
Custom-Designed for Surfers
Although not meant for sale, it's for a special occasion that aims at showcasing the reusability of a vehicle. Its modifications are in line with the theme of the Boardmasters Surfing and Music Festival, which is surfing. The vehicle's presence at the festival also acts as a marketing stunt for the Kia Soul to attract the attention of young buyers. Kia hopes that the Kia Soul EV Boardmasters Edition serves as a great example of how a vehicle can be brought back to life. 
EV Components and Performance
The Boardmasters Edition is technically a Kia Soul EV (which Kia only sells in Europe) except for a few modifications. However, the powertrain remains the same and produces 201hp alongside a 64 kWh battery pack. After lifting the suspension and adding off-road tires, its ride height reaches 76.8 inches (ten inches higher than a Kia Sorento). The rack on top of the Boardmasters Edition features dual-LED bars for extra lighting at night and a single solar panel to help recharge the battery. 
Other Unique Features
Other noteworthy features include the addition of white stripes and the Boardmasters logo on both exterior door panels. It also has a tailgate function that consists of a bench that folds out and a swing-out arm for drying wetsuits, towels, and other clothes. Receive the latest updates from Kia by staying connected with us at Southern Kia Lynnhaven and experience top-notch service from our professional and friendly staff. If you are looking to finance or lease a new Kia vehicle, give us a call or fill out our contact form and receive a response from us within the same day. Be sure to check out our new and certified pre-owned Kia inventory for the best deals you don't want to miss out on. Don't delay! Drive home today the Kia you've always wanted! Whether you are shopping for a new 2021 Kia Soul or a brand new Kia SUV, we have the most popular models!
Image Source: Kia of U.K.