Kia Releases Official Pricing Figures for 2022 Sorento Plug-In Hybrid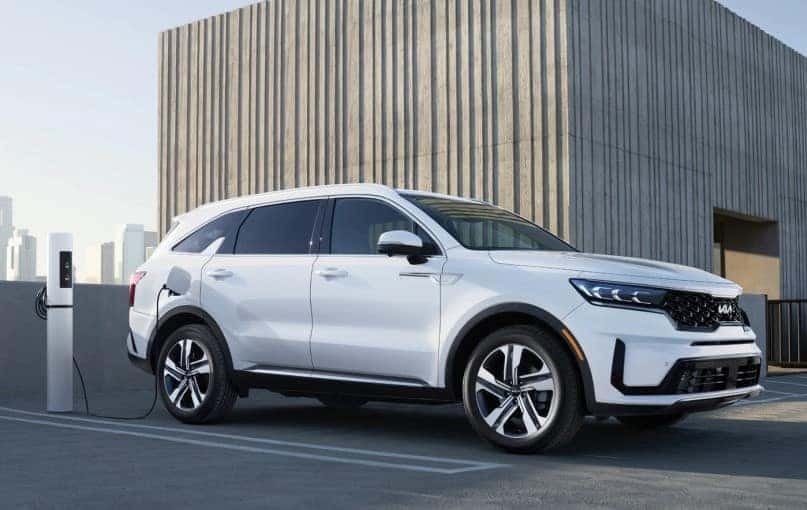 Kia officially announces its pricing figures for the 2022 Sorento Plug-in Hybrid (PHEV); its estimated base price is $46,165 for the SX trim (before any tax credits are applied). However, after applying for federal tax credits, the vehicle could go as low as $38,403 (plus destination fee). Only the gasoline and hybrid versions were available in previous years, but Kia recently added the PHEV version to the lineup, providing consumers a third buying option for the Sorento. Prospective buyers that want a fully-loaded Sorento PHEV can opt for the SX Prestige trim, which starts at $49,065 (about $3,000 extra) and comes with more sophisticated technology and luxury features.  
Performance and Battery
The Sorento PHEV uses a different version of the hybrid's 1.6 L 4-cylinder engine and features a six-speed automatic transmission. It also comes with a 13.8 kWh battery and a 66.9 kWh electric motor for 261hp, which is 34 more horsepower than the regular hybrid model. Drivers who decide to purchase a new 2022 Sorento PHEV will be rewarded with 460 miles of range with an extra 32 miles of all-electric range from the battery. EPA estimates put the Sorento PHEV at 79mpg(e) combined, one of the best fuel economy numbers in its class. All-wheel drive is standard for driving over multi-terrain environments and having more traction on solid-paved roads.  
Standard Safety Features
Like the rest of the Sorento models, the PHEV comes with plenty of standard safety and driver-assistance features. Kia's safety suite includes adaptive cruise control (with stop-and-go), lane-centering steering function, a blind-spot monitoring system, and automatic emergency braking with pedestrian detection. These are all desirable features to have in a family-oriented vehicle, and Kia ensures that the new Sorento PHEV is the safest and most reliable Sorento SUV ever.    
Buy Your Kia Sorento with Us
The sale is going on now! Get your 2022 Kia Sorento Plug-in Hybrid today at a fraction of the price with applicable federal tax credits and low monthly payments for those that qualify. Whether you intend to keep the Sorento for a long time or think of entering a lease term, we have affordable payment options for eligible buyers. Add the Sorento PHEV to your shopping list, and let us assist you in getting a great deal on one. Contact us at Southern Kia Lynnhaven, and we'll get the process started. If you want to customize your Sorento that best suits your style, you can go on Kia's Vehicle Configurator and submit to us your custom build for processing. If you have any questions on payment options or want to request more vehicle information, fill out our contact form on our website, we are always online to answer your questions. Also, feel free to explore our fantastic inventory of new and certified pre-owned Kia models at great local prices! Visit us or give us a call!
Image Source: Kia