Kia Sportage Reveal 10/27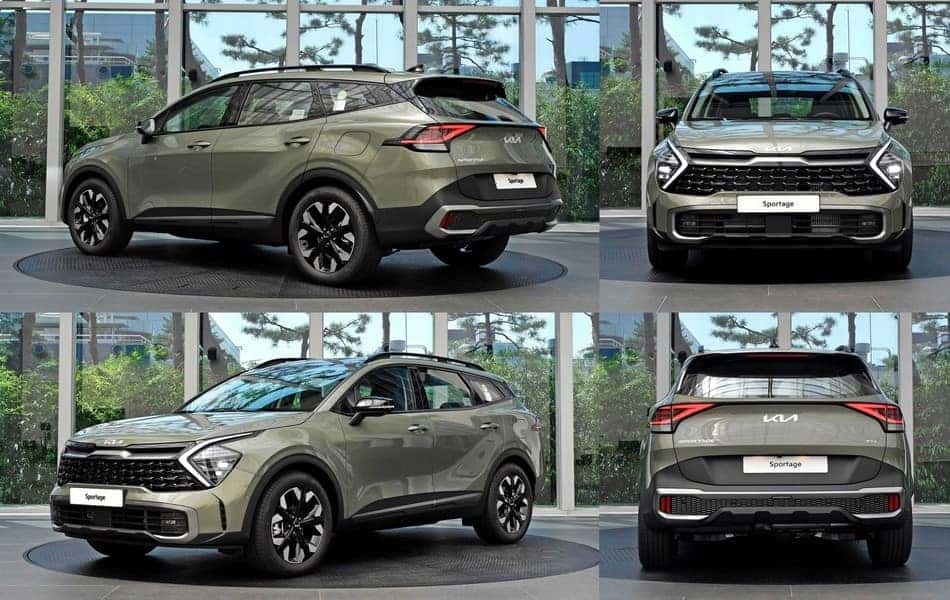 The Kia Sportage receives a significant update for its next generation, and it's going to sell as a 2023 model in early Spring next year. Its debut is scheduled for October 27, and Kia fans cannot wait to see it in its final production form in person and on digital platforms. The outgoing model year was showing its old age with its dated exterior styling. Kia's answer is implementing a whole vehicle redesign that resembles a futuristic compact SUV. What is immediately noticeable on the new Sportage is the front grille divided into two sections: a wide tiger-nose mesh grille and a lower bumper portion where the fog lights and intercooler are located.    
Its boomerang-shaped LED daytime running lights give it a dramatic look on the front fascia. From every angle, the new Sportage is looking sporty and is anything but boring. Kia is confident the new Sportage will sell well with new car buyers, family-oriented buyers, and new Kia customers new to the brand. At the rear of the vehicle are new triangular-shaped LED taillights that curve toward the rear sides of the vehicle, just like on the Kia Stinger.
Inside the Cabin
Upon entering the 2023 Kia Sportage, drivers are greeted with dual 12-inch touchscreens, one is the driver's instrument cluster, and the other screen is the central infotainment unit. Kia also does away with the hand-held gear selector in favor of a rotary-style shift knob. Heated and ventilated seats are available in addition to a 360-degree camera system and parking sensors, a reasonable standard on the higher trims. Kia will release more information during its debut on October 27.   
Powertrain Information
It's debatable which engine options will be available on the 2023 Kia Sportage, but online automotive sources point toward two possible options. They include either a 1.6 L turbocharged engine or a 2.5 L 4-cylinder with an electric motor assist function or hybrid components. Kia likely wants its new Sportage SUV to be fuel-efficient and fun to drive with ample amounts of horsepower. 
Buying a New 2023 Kia Sportage
With its redesign and a new suite of technology, the Kia Sportage will cost considerably more than the outgoing model. Although exact pricing figures are yet to be determined by Kia, an educated guess may put the 2023 Kia Sportage at just over a $25,265 base price (plus destination fee). The new Sportage is on sale in Spring 2022 with several engine options and will be available for custom order after the debut. The Kia Sportage just got even better! Kia's new compact SUV is available for sale early next year with a redesigned exterior and refined cabin! Models are expected to sell fast once they hit dealership lots. Get started today and get in touch with us at Southern Kia Lynnhaven to reserve your SUV. With us, you will receive timely delivery and pickup of your vehicle the sooner you place an order through our dealership. Also, feel free to explore our inventory of new and certified pre-owned Kia inventory for your chance to save thousands!