New 2020 Kia Optima Near Virginia Beach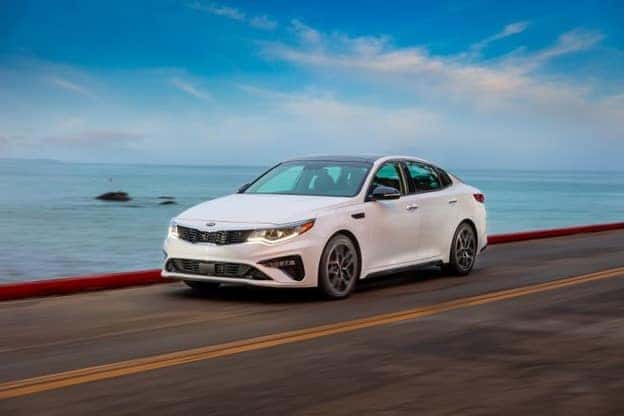 The 2020 Kia Optima near Virginia Beach is now in its fifth model year, and has continued to progress year by year with model updates and a new suite of standard tech.
Key Updates:
The 2020 Kia Optima near Virginia Beach includes enhanced forward collision avoidance for the S and LX trims, new wireless charging capabilities, and numerous trim updates and upgrades, with more options available.
Snapshot:
Retaining the best of the previous generations, and updating in key locations, the 2020 Kia Optima near Virginia Beach is better than ever. Building on the 2019 light modifications, including leather seating on the SX line, and all new driver assisted technology, as well as a new UVO infotainment system, the 2020 Kia Optima near Virginia Beach is a car for the new decade.
Wireless smartphone charging now comes standard on the EX and SX trims.
Forward Collision-Avoidance-Assistance has been added with the LX and S trim models. Previous demands have now granted the EX Premium as a designated trim, upgraded from what was previously only an option package.
The S model, which includes a new panoramic roof is also available as a separate trim for 2020, not to mention the EX Premium, which comes with a turbocharged 1.6 liter inline-4 engine. The highly popular turbocharged 2-liter engine from the 2019 Optima has been incorporated into the SX trim.
With 6 trim varieties available as opposed to the previous years' 4, the 2020 Kia Optima near Virginia Beach is now more customizable to your tastes.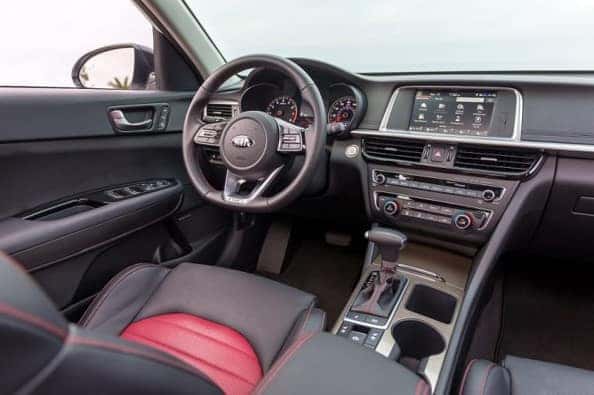 Safety
Safety continues to be prioritized with the 2020 Kia Optima near Virginia Beach. Every 2020 Optima offers the Kia Drive Wise Driver Assist Technology suite. This consists of:
-Forward Collision Warning
-Rear Cross Traffic Collision Warning
-Smart Cruise Control with Stop & Go added on the EX Trim and additional premium trims (no need to toggle cruise control off and on to match changing traffic conditions)
-Blind Spot Collision Warning
-Parking Distance Warning
-Lane Change Assist
-Driver Attention Warning
Efficiency
As far as gasoline powered sedans go, the efficiency is respectable for a car that also offers athletic sensibilities.
The 2020 Kia Optima near Virginia Beach LX trim has 25 MPG City, 35 Highway, and 29 combined.
The S trim offers 24 City, 32 Highway, and 27 MPG combined.
The EX trim comes with 27, 37, and 31 MPG accordingly.
Lastly, the SX trim has 21, 30, and 24 MPG.
The Classic Elements of the Kia Optima
Some elements of the Optima have stood the test of time. The 2020 Kia Optima near Virginia Beach has the best of them.
-Signature sport style bumpers
-Chrome exhaust tip
-Heated sideview mirrors (to maintain visibility in winter weather conditions)
-LED Daytime Running Lights for safety and style
-Upgrades include panoramic sunroof, Smart Welcome (lights the door handles as you approach), Smart Trunk (opens the trunk upon your approach) as well as other cosmetic and sporty bonuses such as an attractive rear spoiler, large, alloy wheels, and other design-centric features.
The 2020 Kia Optima near Virginia Beach is an example of how good becomes great. Visit Our Showroom to discover the 2020 Kia Optima for yourself.