The 2022 Kia K5 GT-Line is an Incredible Value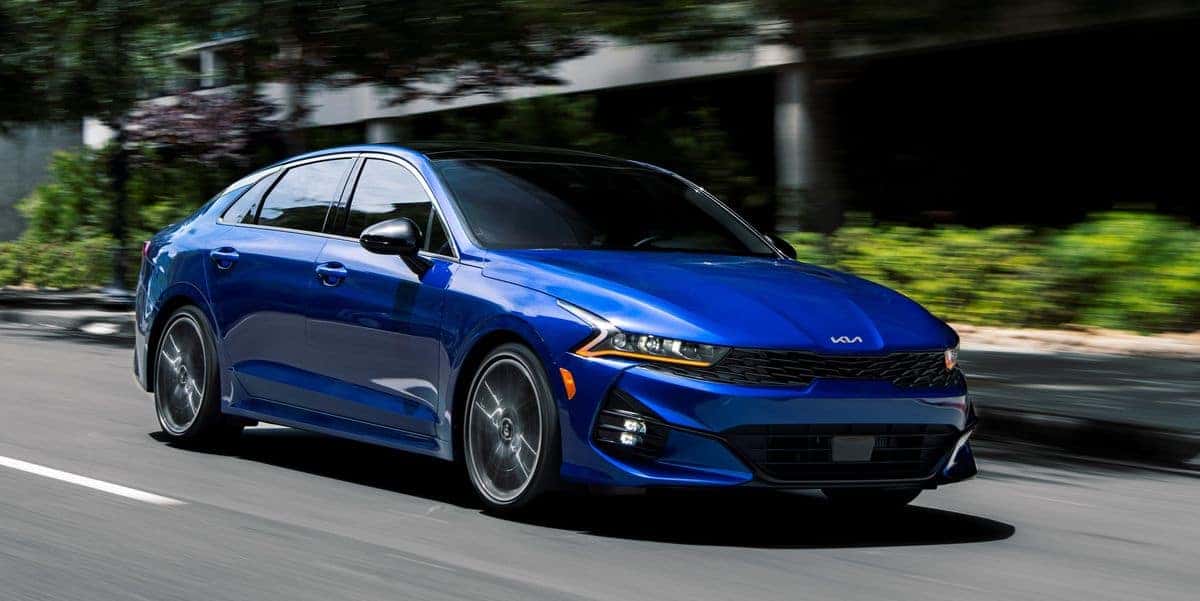 The mid-size Kia K5 sedan is the perfect balance of practicality and sporty flavor at an affordable price point. Starting from a base price of $23,690, the K5 makes an excellent daily driver with a capable engine and admirable fuel range that allows occasional road trips. Kia designed the K5 for drivers that want to drive in something stylish and sporty at the same time, and it's an immediate eye-catcher. Its signature "tiger nose" front grille and various angular features give it an aggressive and sophisticated appearance. The exterior profile of the 2022 K5 is sleek with its fastback body style, which conveys a confident stance.   
Opting for the GT-Line trim increases the price of the K5 to $26,535, but the bump in value is a small price to pay because of all the features it comes with. Consumers can drive home a sporty family sedan from dual-chrome exhaust tips, 18-inch sport alloy wheels, to a gloss black rear deck-lid spoiler, and unique front and rear bumpers. (Please keep in mind vehicle pricing is subject to change to accommodate destination fees and optional equipment). 
Engine and Performance
Being the fourth trim level of the K5, the GT-Line is the sweet spot for Kia for several reasons. Budget-wise, the GT-Line is roughly $5,000 less than the GT trim, and being a mid-tier option, it has the best of both worlds: admirable fuel economy and plenty of power. Although the GT-Line has a smaller engine than its bigger sibling, its 1.6 L 4-cylinder turbo engine delivers a potent 180hp and 195 lb-ft of torque. Drivers don't have to worry about wheel spin or lost traction because its standard all-wheel-drive system provides optimal control and grip of all four wheels when turning or accelerating in a straight line. Those interested in driving their K5 sedan through the snow can do so because it comes with a "snow" driving mode that further enhances the all-wheel-drive system.  
Technology and Interior
Inside the K5 GT-Line, drivers are greeted with an 8-inch touchscreen display with an HD rearview camera perfect for maneuvering in and out of parking spaces. However, the standard touchscreen can be upgraded to a larger 10.25-inch unit for increased visibility. Standard Apple CarPlay and Android Auto are available, allowing drivers to use their favorite apps and listen to their favorite music, including hands-free calling and texting. There is also dual-zone climate control, keyless entry with push-button start, and multiple USB ports in the front and rear for charging devices at all times.         
The seats of the GT-Line are made of SynTex upholstery and have a 10-way power-adjustable function for the driver's seat (with 2-way lumbar support). Driving in cold weather is not a problem because it also has heated front seats. Traveling with a lot of luggage? There is a total of 16-cubic inches of trunk space and 35.2-inches of legroom in the rear seats allowing even tall passengers to travel in comfort.
Buying a New 2022 Kia K5 
Whether you are interested in buying a GT-Line or other trim, don't hesitate to contact us at Southern Kia Lynnhaven. We are here to provide you with a seamless shopping experience. Please take a look at our 2022 Kia K5 inventory and tell us which model most appeals to you. We'll help you secure a great deal on one, so you can drive one home today! If you have any questions or concerns, we are also available online, fill out our contact form and receive a response from our friendly staff. If you are looking for something more budget-friendly, take a look at our certified pre-owned Kia models, we have the best local deals, or we'll price match!
Image Source: Kia