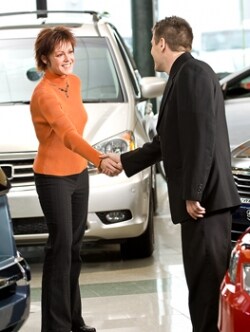 The automotive arena is no longer a male-dominated industry; in fact more women than ever are buying cars and influencing car-buying decisions. According to American Women Road & Travel Magazine (//www.roadandtravel.com), women are spending about $300 billion annually on car sales, as well as maintenance for their cars, and also repairs and other miscellaneous services.  Women aren't only influencing car sales, but are also shown to be the key decision makers in about 80% of new car and truck purchases.

Women look for different things (than men) when it comes down to the vehicle that they will purchase. The main things that women look for in vehicles are: Reliability, storage, ample space, an environmentally conscientious vehicle, a technologically advanced vehicle, price and style.

 

An automobile will become many different things to a woman - a theater for her children when traveling, a commuter vehicle to and from work and a place to gossip with her girlfriends on a road trip. It is important that a woman feels as comfortable as possible with the car buying process, as a car (besides a house) will be one of her most expensive purchases in life. At The Southern Auto Group, we're committed to doing just that.
We encourage women to learn about the ins and outs of purchasing a vehicle by doing plenty of research on the Internet. Women need to truly utilize all the knowledge that the Internet has to offer by researching price, vehicle features and options (even warranty and financing) before ever setting foot into the dealership. And once you're here, The Southern Auto Group will make your car-buying experience the BEST before, during and after the sale. 
The Southern Auto Group is a proud sponsor of NAWBOSEVA, National Association of Women Business Owners For Southern Eastern Virginia. NAWBO's mission is to propel women entrepreneurs into economic, social and political spheres of power. As an organization, these women bring new ideas and products to the marketplace, increase employment, improved local economies and support charitable causes.